Traveling is one of the most exciting things a person can do in life. Whether taking a gap year from college or putting a career on hold for a while, jetting off to exciting new places is a way to broaden the mind and have unforgettable, and even life-changing, experiences.
Kimberly Anderberg says that more often than the destination, it's the people met along the way who can make traveling even more fun and exciting. Friendships formed at the other end of the world can last forever. It's not difficult to get started, and below are some tips that could help:
Be Open-Minded
Probably the most important thing to remember about traveling is that it's going to be a completely different experience from everyday occurrences back home.
Traveling is all about seeing new things, so there's no need to do it with the same kinds of people. Don't be quick to seek out the same types of friends that are back home.
Put prejudices aside and strike up conversations with new characters, those with different opinions, and those who maybe seemed unusual at first glance.
Befriending those who speak a different primary language can be challenging, yet beneficial to those looking to expand their knowledge in the foreign tongue.
These different conversations can be surprisingly rewarding.
Be Approachable
Be aware of the vibe you project. Many of us don't realize how unapproachable we look on a daily basis. Step out of the norm and put on a brave new face.
To look more approachable, simple actions like removing earphones, looking up from cell phones, making eye contact when interacting, smiling, or saying hello to passersby, and looking as though we might be receptive to further interaction can all help spark up a chat.
If nothing else – be the one to provoke conversation with others.
Stay in the Right Places
Traveling can be an expensive hobby, so choosing where to sleep is often as much about budget as it is comfort.
One way to both save money and meet new people is to sleep in hotels, hostels, or dorms. There are plenty of places that charge just a few bucks a night to share a room with a group of others, some of whom will also be traveling alone.
Buddying up, seeing the sights together, having meals locally and especially looking out for one another is a great way to make new friends as well.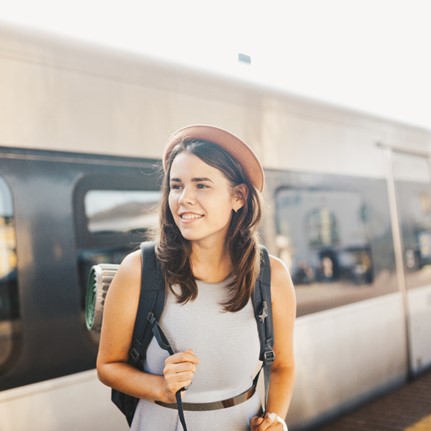 Use Local Apps
There are some apps that are created especially for visitors who are traveling alone or in groups. SoloTraveler, Flip the Trip and even Tinder and ways to seek out other nearby travelers and find great company, as well as arranging to travel together to cut down on costs like fuel and tickets.
Be Safe
The most important thing, though, is to remember to stay safe. Meet new connections in public places for the first time, don't be quick to get in a car with someone new and let someone else know if there's a plan to move to another destination.
When traveling alone, some good advice is to let the hotel, hostel or dorm room lobby know when you expect to be back, informing them that you are traveling alone, yet meeting a new group of locals. This can make all the difference in personal safety.
Sharing your location with someone back home is also another great tip. Let others know where you intend to be, and for how long – and share the exact destination with them. Though half a world away, this person can keep in touch with you along the way, and can reach out to local authorities if you cannot.
Above All, Be Curious
Trying not to be so regimented about the travel schedule and simply allowing things to move naturally and 'go with the flow' will help to ensure new friends will pop up in all kinds of places.
Whether they're local to the area or on their own traveling adventure, there are friends to be made all over the world, so go and look for them!