Kimberly Anderberg notes that travelling is an enjoyable activity that stands out as an excellent way to explore new cultures, enjoy diverse cuisines, and meet friends along the way. Those who are new to travelling or simply enjoy learning more about it typically turn to travel experts who have been to a wide variety of locations. Reason being these individuals have the experience to educate others on the best ways to travel the world efficiently, enjoyably, and safely.
Kimberly Anderberg is a travel expert who has dedicated her time to helping others learn more about distant lands, traveling best practices, and more. Through a collection of travel resources that provide insights on the art of travelling the world, she hopes to inspire others to connect with their passion for travel and enjoy all of the benefits that the hobby has to offer.
About Kimberly Anderberg
Kimberly Anderberg is a marketing professional who specializes in B2C, B2B and digital strategy. Through Kimberly's over two decades in industry, she built a reputation on her unique approach to marketing and innovative practices that empowered individuals and companies to stay at the forefront of their industries.
In her free time, Kimberly Anderberg is a travel blogger and expert who educates others on travel while sharing her experiences in a wide variety of countries and locations her home country of the United States. To date, Kimberly has shared experiences on her trips to Rome, the Amalfi Coast, Maldives, Israel, Georgia, Texas, Rhode Island, California, Ireland, Hungary, Brazil, France, China, India, and more. Through her posts, Kimberly keeps her followers updated with pictures and write ups detailing her experiences down to the people she meets on her journeys, the food that she enjoys, and the many entertainment opportunities she participates along the way.
Kimberly Anderberg Shares Air Travel Packing Tips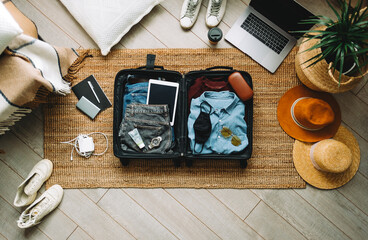 As a travel blogger and expert, Kimberly Anderberg is frequently asked general questions pertaining to how to travel more efficiently. She maintains that the process starts at home when we begin to plan and pack for our trips. Here, Kimberly explores a few tips that travelers can utilize to bring their packing game to the next level.
Make a List
Travelling is a lot like grocery shopping in that it is very easy to forget important things if you do not have a list. For best results when travelling, try to create a good list that includes most of what you will need over the course of your trip. A list may vary depending on the length of your trip, as you may require more quality of life items for a week or two weeklong excursion versus a 3 day, long weekend visit. One of the best parts about having a list on hand is that it helps you two times as you prepare for travelling. First, it helps to ensure that you pack the items that you will need. Second, before you go, you can consult your checklist and be sure that you have all of the items before heading off.
Pick the Right Bags
Choosing the right bags can go a long way for maintaining comfort during a trip. Kimberly finds that the best technique for choosing the best bags is to consider both the location of where you are traveling and the length of time. If you are going on a short trip, for example, it can be helpful to bring smaller bags. Longer trips, especially those to locations that have less amenities you would expect to find at home, may necessitate bigger bags. It also helps to consider how you will be travelling when choosing your bags. If you will be doing a lot of air travel on public transport on in the city, more easily portable bags such as duffels, small rollers, or backpacks may be the most ideal. If you know that you will not be moving your bags around much and the trip is for a long stretch of time, a larger bag may make the most sense. Always try to think of these factors before packing as it may influence how comfortable you are during your trip.
Use Helpful Items or Packing Techniques
Many travelers maintain that items such as packing cubes are indispensable when packing for trips as they empower you to maximize the space in your suitcase and be prepared for almost any situation on your visit. These items also help to keep things more organized, which is great should you need to go into your bag to find anything specific. Kimberly Anderberg speaks to how there are also techniques that can be used to both maximize your space and make locating items more convenient. For example, rolling your clothing is a common method for taking up less space and preventing creasing. Rolling also leaves clothing more visible than folding and placing clothes on top of one another. When maximizing your packing space, always be sure to check the weight of your suitcase. An impeccably packed bag can be at risk of being overweight.
Pack Your Personal Item Wisely
Most airlines will let travelers bring a carry on and personal item onboard planes without needing to have them checked. Travel experts often note that personal items are one of the most important features for your trip and should be utilized as wisely as possible. One way to effectively use your personal item is to keep essential items such as passport, money, identification, cards, electronics, etc. as losing any as a result of a lost bag can be a huge issue on any trip. Personal items can be used to keep an auxiliary outfit, simple medical supplies such as acetaminophen or ibuprofen, sources of entertainment, and more that will make the trip to your location much more streamlined. Simply put, they are excellent for keeping things that you may need to have on hand without digging through your other packed bags.
More from Kimberly Anderberg
Kimberly Anderberg notes that there many reasons why people enjoy consuming travel content ranging from learning about countries that individuals wish to visit to getting a clear picture of how to travel more efficiently in a general sense. Kimberly speaks to the importance of keeping travel material accessible for individuals who would like to learn more, and this remains a driving force for her dedication to maintaining travel blogs and resources. To this point, Kimberly Anderberg hopes to update this website with a collection of resources that detail her travel experiences, travel tips, and recent developments impacting travel worldwide.
Are you interested in learning more about travelling from an expert such as Kimberly Anderberg? Check this website frequently for more updates, insights, and tips from Kimberly.